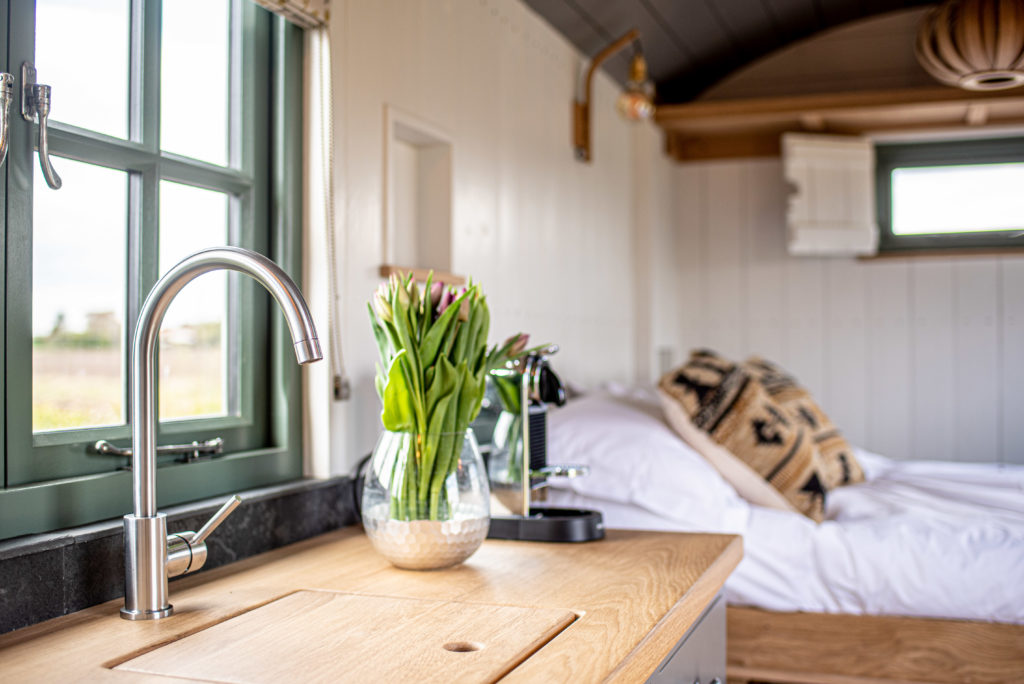 We want your stay in one of our Shepherd's Huts to feel comparable to a luxury hotel, so we've gone the extra mile to make them exceptionally comfortable for you! Throughout their design process we have ensured we achieve the perfect balance between luxury, comfort, and a connection to the great outdoors. We've also prioritised operating sustainably throughout and have added in extra little treats to delight you.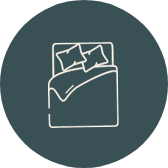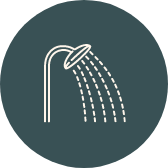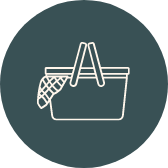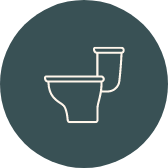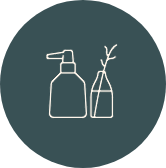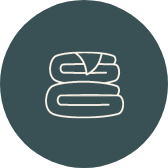 High quality bedding, linen & towels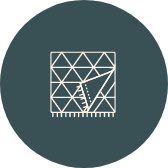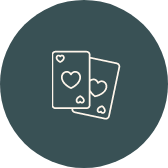 Playing cards, books, board games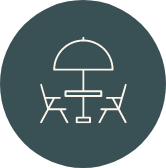 YOUR OWN PRIVATE TERRACE AREA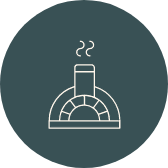 BBQ / fire pit & pizza oven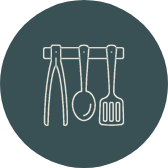 essential utensils & crockery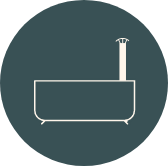 Each Shepherd's Hut is 18 feet long and is cleverly designed to provide ample space for a double bed, seating, a kitchen area, a hot shower and flushing toilet. They also each have their own private outdoor area complete with wood-fired hot tub.
In our opinion, there's nothing worse than having to make your bed every day, so our ingenious double beds pull down from the wall fully made with luxurious British bed linen and cosy blankets. You can choose to either leave it down and make the most of your outside seating area during the day… or tuck it away again ready to relax in the lovely interiors of your Shepherd's Hut.
The huts have hand-built oak tables and benches to seat up to 4 people. Playing cards, books and a few board games all make for the perfect cosy evening – with a log burner for you to enjoy on those cooler nights too.
Within the hut, the kitchens consist of an induction hob, fridge, and small Belfast sink, plus all the essential utensils and crockery needed to rustle up a small hob-based meal should you wish. On arrival you will be greeted with a Welcome Hamper containing key items for your stay such as milk, olive oil, salt & pepper, tea, coffee, sugar, fresh eggs and a couple of extra treats too.
Outside, each Shepherd's Hut has its own private terrace area with a bistro set, overlooking the surrounding fields and the most amazing sunsets! We just love this space as it's the perfect spot to sit and relax at any time of day, whether for a morning coffee or afternoon glass of wine. With both a BBQ/fire-pit and pizza oven also found within your terrace area, there's something to suit every dining option. Plus, we cannot forget our wood fired hot tubs, perfectly seating two and privately tucked away ready for a romantic evening below the stars.
High quality bedding, linen and towels are all included along with British made, natural hand soap that can also be used on the body. Prior to your arrival you will be sent our welcome letter which includes an in-depth list of all amenities, ensuring you know exactly what to bring with you for the perfect stay.
Wood is provided, however, please note we do not stock charcoal. We can provide BBQ packs, have fizz prepared on ice, pre-arranged shopping waiting for you on request, and your hot tubs ready for your arrival, all of which is available as an optional extra when booking or please email us for further information or special requests.
We can't wait to welcome you to our beautiful farmlands in the heart of Cambridgeshire
Immerse yourself in our beautiful farmlands in the heart of Cambridgeshire.